Health Benefits of Rowing
Find an exercise you like and you are likely to improve your quality of life as well as your lifespan. If you love rowing, you are lucky because rowing tends to be high in benefits and low in joint impact and injuries. The benefits are so significant that this is a sport you should try if you have access to equipment and a place to row. Using a rowing machine (ergometer) is becoming a hot new sport. Some say the rowing is the new spinning—but rowing is even better and provides a more balanced full-body workout. If you love the water and nature, gliding across a lake or river or even calm ocean waters can be both calming and motivating. Once the technique of rowing becomes habit, the movements can build power and strength to your cardiovascular system and muscle groups.
 Get rid of extra fat
Rowing is predominately an aerobic sport. According to fitness trainer Aamir Becic, most rowers can easily burn up to 600 calories an hour, while competitive rowers expend almost twice the number of calories on a 2,000-meter course as a runner in a 3,000-meter steeplechase. Rowing can promote a healthy balance of fat to muscle in disciplined rowers.
Tone everywhere
Rowing, when done correctly, works the back, hamstrings, gluteal muscles, biceps, and core. It utilizes more body parts than most cardiovascular gym equipment. People of many different fitness levels can approach the sport. Rowing just might be the most efficient exercise ever.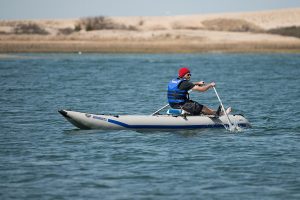 "With each stroke, pretty much every part of the body is used," says Stella Lucia Volpe, an exercise physiologist and professor of nutrition sciences at Drexel University in Philadelphia and an avid rower. And it may let you skip crunches—for good. "A big part of rowing is core strength," she adds. "People think it's all arms, but rowing is much more legs and core."
As quadriceps become stronger, activities and exercises such as walking, jogging, lunges and squats can be done more efficiently.
More health benefits are explained in Single Scull Rowing for Beginners. 
Not ready to buy a scull? Convert your stand up paddleboard or kayak (SUP) to a single scull.
Also From  Jack Walker Press