The Genius of Birds by Jennifer Ackerman Penguin Press, 2016, 266 pages.
Prepare to be annoying. Have you ever experienced a friend or family member who kept looking up over a book with did-you-know facts?  I was that person when I read the first chapter of Michael Pollan's the Botany of Desire. I had to stop myself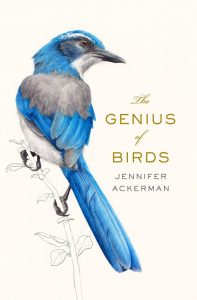 from lobbing factoids about apples at my eye-rolling husband. Ackerman's book evoked the same know-it-all tendencies as I began reading (A New Caledonia crow can use tools to solve an 8 step puzzle, Jays don't pick their own favorite foods to feed their sweetie, but rather choose according the mates preference, Crows read traffic lights to place nuts in the path of rolling tires). Things change. Proclamations diminish as Ackerman pulls you in.
The context of the post-2016 election season seems to increase the gravitas of the book. Reading through the multiple layers about thinking birds and ornithologists' studies presented by a gifted author offers a celebration of critical thinking. Scientists consider that their understanding of intelligence as based on human and cultural values, and they wonder how their bias impacts their study. It's difficult to remove the cultural and ego-oriented lens that every scientists carries with them. It's not difficult to see how much purposeful effort is needed to understand those who think differently from the way we experience the world. If we can understand another species and even individual birds ("uniformity of action is in proportion to paucity of observation…"), perhaps we will have the tools to understand each other. And this understanding doesn't spring only from the time we have watched, listened, and paid attention to those we seek to understand, but also because we have considered our own bias, lens, and motivation.
The Genius of Birds is surely for bird-lovers, yet it's also for those who wish to consider thinking and perceptions. Some good books pull you into their world and you escape. Some good books enter your way of thinking and shift your perceptions as you trace the ideas of a beautiful mind. Trace Ackerman's thoughts and a shift begins. This is highly-readable science, presented upon a foundation of wonder
By Amy Lou Jenkins
Join our Facebook Book Discussion: Environment and Equity Book Club (Sierra Club John Muir Chapter).
Starter Questions for discussion:
What facts about birds did you enjoy?
Did you discover any new ways of looking at intelligence?
Do people care enough about birds to consider the implication of climate change and mass extinctions?
Did you miss a storied narrative that might have pulled thorough this book?
The Genius of Birds is currently #1 on Amazon's ornithology and zoology lists.  Who else might appreciate this book?
Did you learn anything about the way you think?